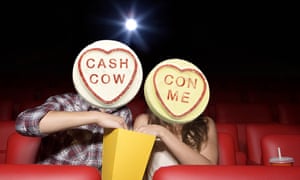 Are you one of the 44 million Americans drowning in student loans you fear you'll never pay back? Worried that you'll be in the red for the rest of your life? Well, why not forget about your spiralling debt by kicking back and watching a movie!

This month, banking company Laurel Road announced that if you refinance your student loan with them, they will give you a year's membership to MoviePass, the movie theater subscription service.
The partnership shines a light on the growing market for private student loans. Private lenders currently hold less than 10% of the $1.4tn in outstanding student loan debt but have been aggressively lobbying for legislation that would loosen the government's monopoly.